In January, I always get a bit of cabin fever. My way to get through it is with projects. I like to have some sort of project around the house that I focus on. This year, it's getting Portia's big-girl room ready (which will be her 2nd birthday present this year). And I LOVE theme rooms. So we're doing birds.
I've been sorting through the best bird bedding online, hoarding bird things (you should have seen all the Christmas clearance bird and owl stuff they had at Target this year!), and compiling a file of "room" ideas from potterybarn kids catalogues, Internet ideas, etc.
Bianca got on board too. She wanted to make something special for Portia for her birthday. Portia's birthday isn't until April, but Bianca finished her projects--a stuffed bird and owl made from felt. I helped cut out the shapes, but she did all the sewing and stitching herself. She's becoming quite good at sewing!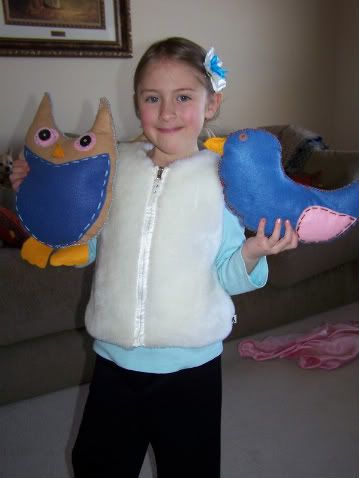 I'm a little anxious to get going on her room, but am forced to wait. Portia's still very happy in her crib, and while she's happy, I'm happy. We'll wait on most of the big-girl room stuff. Anyway, I've still got a lot of projects to hold me over through the winter, even if I can't put them all up yet.