We've finally made a decision that feels right, and I feel peace for the first time since January. Today our house is going off the market. We're officially not going to walk through any more houses. We're going to sit tight for about six months and save up. I'm getting granite in my kitchen, but I'm holding off on the bookshelves upstairs. Around January, we're going to assess where we are financially and assuming everything's as it should be, we're going to start building at that time. We're going to keep our eyes open for the right building lot in between now and that time. We're thinking either Herriman, Riverton, or South Jordan. I also want to see what happens in the next school year with the east/west split before I make any major decisions.
We've picked a builder (same one as the house we almost bought) and a floorplan. Imagine in the great/family room my two-story library in this house: .
http://www.jewkesbrothers.com/viewmodel.cfm?ViewID=13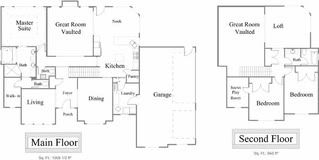 This will be my last house. Unless we have to move out of state, I'll never move again.