Yesterday was Portia's second birthday. We did a small family party (just the four of us). We had pizza for dinner, which is one of the only meals I can consistently get Portia to eat.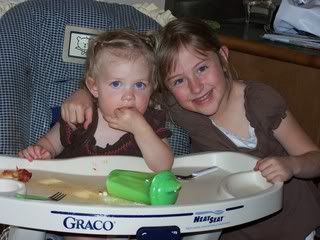 In lieu of a birthday cake, we did a Razzleberry Pie. Portia loves pie and that's what she said she wanted when I asked her if she wanted cake or pie.
Then came presents. Since our present was her big-girl room, there wasn't much in wrapping paper. Fortunately, Bianca's been working on Portia's present for the last six months. Here's Portia with the owl that Bianca made for her.