I pulled out my camera and decided to take pictures of a few of my favorite things around the house. I went from room to room and took snapshots of the things that make me happy. Like while I'm doing the dishes, I have my little tea cups lined up (that are decorative but that I do in fact use every day for my hot cocoa).
As I walked through my family room, I stopped at the niche above my desk and took a picture of the photo frames housing my Hugh Thomson illustrations (my favorite illustrator) I pulled out of a water-damaged book. Right below my off-center Quigley & Co. clock I made in Relief Society a couple years back.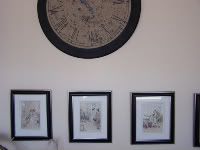 Next, I went through my living room where I sit every night in front of the fire and read to my daughter. The chair is positioned the perfect distance from the fireplace so that my toes stay toasty but I don't get too warm.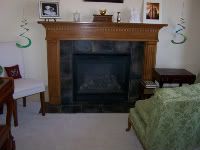 In my daughter Miranda's room, I paused at the shelf with the Eiffel Tower teapot & cups, all sitting before another Thomson illustration of some ladies having tea.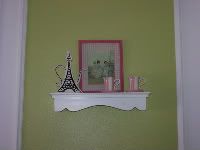 In my room, I went to the Ganesha statue Eric brought home from India that's poised over a small stack of books I've read that just haven't made their way back up to the library upstairs.
As I went through all my photos, I realized every little spot that I love in my house is to do with books, has books in them, or the illustrations out of books. I love books, that's no secret. It reminds me of this quote I have on my goodreads profile that states (or so Cicero says): A room without books is like a body without a soul. I like to think the things that make me happy have given the rooms in my house a soul. Maybe have given my lazy mornings washing dishes a little more thought. Maybe have infused ideas and old books I loved reading into the walls of my house.