On Thursday, our realtor called and said they are officially giving the house to the back-up offer people (who offered quite a bit more). I'm washing my hands of the whole thing. Still, I'm a little sad. But I'm trying to remember all the reasons I didn't want to move and dwell on those.
I thought a good way to get over my sadness would be to give my house a couple little boosts. So I went to Anthropologie and bought some new curtains for my family room. I'm having a couple people come bid on my library upstairs--bookshelves, fireplace (hopefully), additional A/C. I'm getting bids on a fence. I even pulled up some of the shelving the builders left in my house ten years ago and I went to Home Depot and got some shelf supports and added four rows of shelving in our coat closet for shoes (one row for each of us). And Eric says I never do things around the house.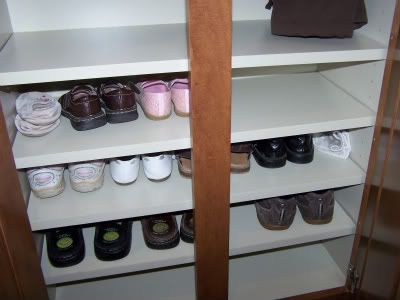 I also bought a bunch of rock and am filling in the window wells around the house. I'm so sick of weeds growing out of them. I don't know how long this will last, but I'm excited about all the new things to be done to my house. And since we don't need the money for a down payment, I've got a little to spend.